Workshop Schedule
Demo: Transparent Painting Over 2D Mixed Media at the Florida Watercolor Convention, Orlando, FL
September 20, 2019 11:50 am Free with convention ticket
Demo: Painting and Drawing on Collage at the Art League Daytona, Daytona, FL
September 29, 2019 1-4 pm Free
Drawing and Painting on Mixed Media Collage 3 Day Workshop at Fort Smith Regional Art Museum, Fort Smith, AR
October 11-13, 2019, Friday, Saturday and Sunday, 10 am to 5 pm
$250 for RAM members, $300 for non-members Click here to register
Drawing and Painting on Mixed Media Collage 2 Day Workshop at McRae Art Studios, Orlando, FL
November 9-10, 2019, Saturday and Sunday, 10 am to 5 pm
Please note that a 50% refund is available for workshops cancelled 72 hours in advance.
Workshop dates may not be changed after registration is confirmed, but are transferable to another person at any point.
Drawing and Painting on Mixed Media Collage 2 Day Workshop at The Art Room, Windermere, FL
November 20-21, 2019, Wednesday and Thursday, 10 am to 4 pm
Drawing and Painting on Mixed Media Collage 2 Day Workshop at Art League Daytona, Daytona, FL
January 18-19, 2020 Saturday and Sunday, 9 am to 4 pm
$195 for members $215.00 for nonmembers Click here to register
Mixed Media Workshop Resume
Florida Watercolor Society Demo 2019 and 2016
ISEA (International Society of Experimental Artists) Demo 2017
Fort Smith Regional Art Museum, Fort Smith, Arkansas
Wacky Nut Farm, Bainbridge Island, WA
Art Education Center: Island Art Association in Fernandina Beach, FL
Art More Place, Melbourne, FL
Art League of Daytona, FL
Nature Coast Art League, Spring Hill, FL
Winter Garden Art Association at the SOBO Art Center, FL
Artist's Workshop in New Smyrna Beach, FL
Ormond Memorial Art Museum, FL
Mount Dora Center for the Arts, FL
Leesburg Art Association, FL
Leesburg Art Center, FL
Maitland Art Center, FL
The Pottery Studio in Orlando, FL
Lifelong Learning Center, Villages, FL
Village Art League, Villages, FL
McRae Art Studios, Orlando, FL
6th Avenue Art Studios, Mount Dora, FL
Joanne Fink and team at Zenspirations, FL
Bridgewater Middle School, FL
Ocoee Middle School, FL
Round Lake Elementary, Mount Dora, FL
Private in home and in business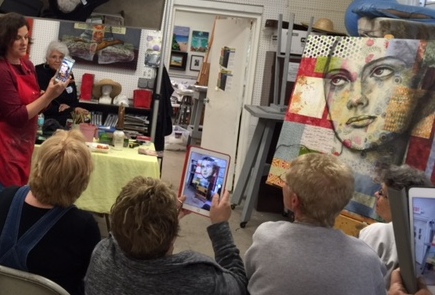 Testimonials
"Thank YOU, Christine! Such an amazing workshop! You are an extraordinary teacher... And I know each of us learned so much! I personally loved having your energy in the studio...and I hope you'll come again...and again to teach at Art More Place! Thank you for all your help and guidance...I love my painting...can't wait to give it to my Dad!"- Sherri
"Thank you Christine for such a fabulous workshop experience. Your techniques were so inspiring. I would love a 2.0!" -Deb
"So glad that I signed up for your workshop. You are a fantastic teacher and I love your technique. It has changed my outlook on my future as an artist and I am excited to apply the technique to my studio pieces. Thanks so much!!!" -Ruth
"Great weekend on a dozen levels - I'm totally jazzed." -Linda
"What an awesome workshop Christine! So glad to have been part of it. I have always loved looking at your pieces in Arts on Douglas gallery. They are beautiful and unique. I would definitely sign up for another workshop with you! So much fun!" -Grace
"I have already mentioned to you that I would love to take another class with you. Two just weren't enough! And I would love to progress further... Also, you are a GREAT teacher!" - Kathy
"Excellent weekend Christine! New studio,surrounded by your work is inspirational to start then being in your wisdom, freedom, eagerness to share anything and everything, talent and all around darn fun-ness is the icing on the cake! Thank you - will be back!"- Linda
"Thanks for being such a sharing artist and inspiring others to create! Love taking a day to go away and play and see what new creation I can bring home with me....gotta love it!"- Kim
Workshop Descriptions
Drawing and Painting with Mixed Media Collage
Learn the joys of mixed media collage. In the workshop, I teach the fundamentals of collage, drawing and painting. I will address working with papers, fabrics, found objects, past art work, pencil and charcoal drawing, and acrylic painting. Students have the option to play with gelli plates, stamps and monoprinting on papers in addition the collage. The materials used will be the choice of each student, but students are encouraged to incorporate some of their own prior art work into new pieces. The objective of the workshop is to explore new mixed media techniques and excavate each student's authentic voice in their art.
I teach 2 drawing methods using the student's own photos. I teach how to graph a photo for any size free hand drawing and also a tracing method that works well for small pieces and individuals who are intimidated or new to drawing. We learn the fundamentals of collage on the first day and then spend the second day drawing and painting over those collages. I do drawing demonstrations on the first day so that you know what to expect and what kind of photo reference to bring. I work individually with each person trying to get their projects to a place that they love.
I encourage everyone to incorporate mixed media collage into what they already do! I will work with each of you on whatever style project you would like to work on whether it is faces, figures, landscapes, still lives or abstracts. There are no set rules in my workshops. I try to create a fun time that introduces new techniques and a comfortable learning environment to enhance where you already are. All levels are welcomed!
Advanced Drawing and Painting with Mixed Media Collage
This workshop is a continuation of my Drawing and Painting with Mixed Media Workshop. Prior exposure to collage either in that workshop or others is preferable but not necessary. The emphasis during these 2 days will be further developing drawing and painting skills on collage. Students have the option to collage during the first day (using papers, fabrics, and found objects) or bring in finished collages that are ready to be drawn and painted on. There are no set rules in my workshops. I try to create a fun time that introduces new techniques and a comfortable learning environment to enhance where you already are. All levels are welcomed!
Mixed Media Make and Take
Create gifts that are uniquely yours and no prior art experience is necessary!
All materials are included! Make boxes, books, frames, bottles, plaques, decorations and ornaments.
Mixed Media Binge and Blitz
4 workshops about 4 different mixed media techniques by 4 teachers over 2 days.
Collage on Objects with Christine Peloquin
Marbling Fabrics and Paper with Heather Earnest
Mixed Media Jewelry with Jan Krassner
Mixed Media Monoprinting with Jennifer Ball
Sign up here for my Workshop Newsletter
Interested in sponsoring a workshop? Send me a message to receive more information: